Indy Convergence will host the fourth annual A Rising Tide festival on the shores of the White River. The performance series will run September 15-18,2022, featuring three live performances on two stages (including one that floats!) and three guided nature hikes. All events are free and open to the public with an RSVP on the event site. Two nature hikes will be bilingual (Spanish and English), and one hike will be along the river's East banks to allow for increased accessibility.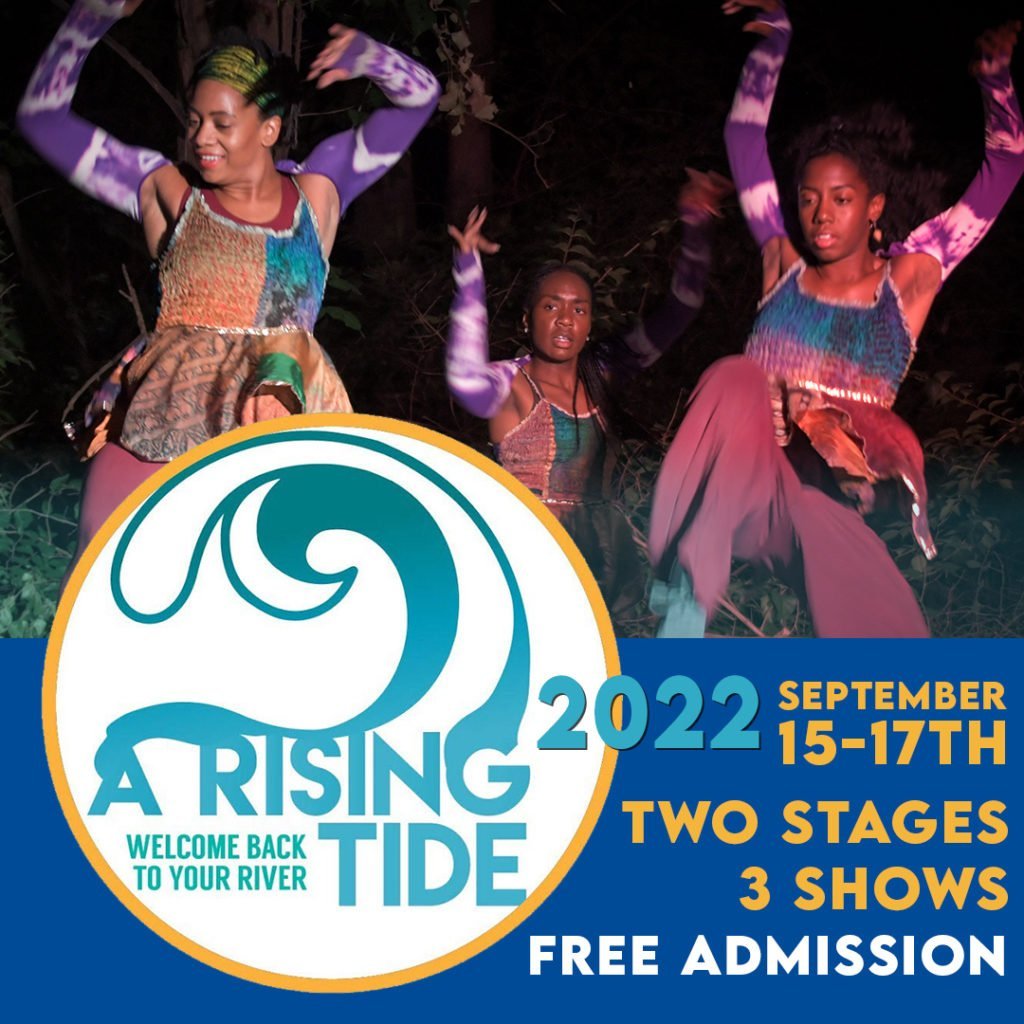 The inaugural festival in 2019 hosted five performances in previously under-used and overgrown locations along the banks of the White River from 16th St to New York St. The series' concept took hold as the organization worked with Near Westside partners to remove invasive species along the banks of the river. Beautiful performance venues and gathering spaces emerged as volunteers worked to clean up the river banks. In the newly opened spaces, Indy Convergence saw an opportunity to offer one-of-a-kind performance experiences for artists and audiences. Indy Convergence's directors, both former performers, knew that the artists in Indianapolis would jump at the chance to perform in unconventional spaces that gave their audiences something exciting to experience as they shared their work.
The deep connection to the Near Westside's neighborhood-level development is essential to the series. The series is programmed annually with input from Near Westside residents and artists. With this constant input and engagement, the community invites Indianapolis to a proud community asset. Since its first year, A Rising Tide continued to evolve to strengthen the hyper-local economy through an all Near Westside stage crew. Every year it increases resident access to the river by clearning new recreation spaces and continues the ecological work year-round to restore the White River. A Rising Tide is all these components equally working together to reveal the beauty held in the urban wilderness on the river banks inviting our city to enjoy Indianapolis's most crucial waterway.
The ongoing support from residents, the Near West Livability task force, the ROW White River committee, local entrepreneurs, and businesses is the backbone of the series. In 2022 performances will include the talented Son de Esquina band led by Juan Manuel and a collaborative performance MC'd by local talent Mike Treez featuring dancers from Kenyetta Dance Company, Sizzlin Greg Bacon, and DJ DJ of the greatest DJs. Nature hikes will be led by Reconnecting to Our Waterways White River co-chair Greg Harger. Brittany Crone, our area's Mayor's Neighborhood Advocate, will accompany Greg as our translator this year. Indy Convergence works year-round with other neighborhood partners, including the Friends of the Belmont Beach, to program and maintain west side river spaces for the entire community to enjoy.