Plan& Vision
Protecting and enhancing our defining natural resource.
What's the Plan?
The White River Vision Plan is a community-driven plan in Hamilton County and Indianapolis that explores the enormous potential of our river to enhance regional vibrancy, ecological integrity, livability and economic vitality.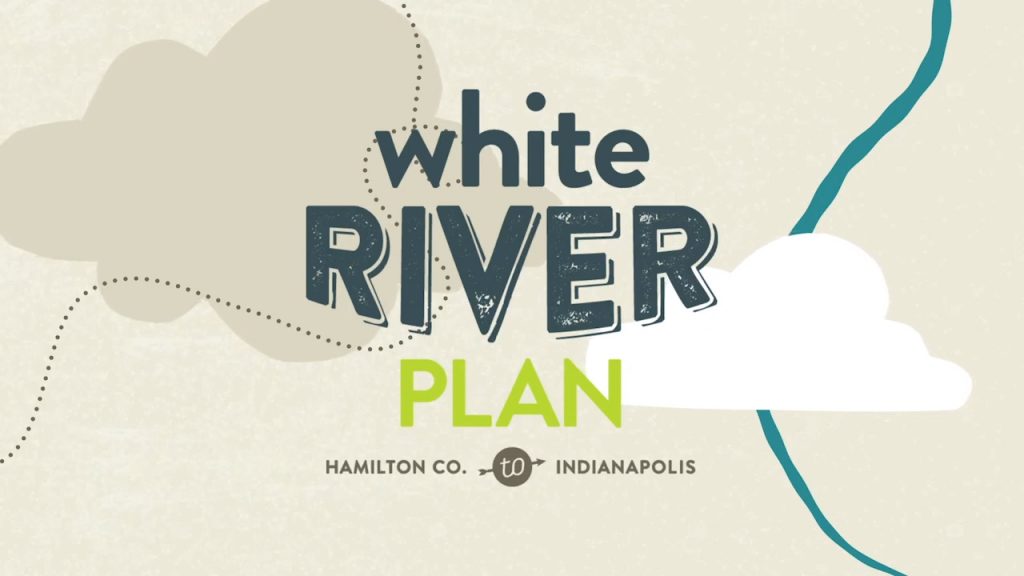 In recent years, Hamilton County and Marion County have experienced a renaissance. Downtown development is accelerating, suburban communities are flourishing, cultural institutions are expanding, major infrastructure projects are tackling water quality challenges, and park improvements are leading to a flourishing quality of life for the community. Long invisible, the river is awakening from a period of underutilization and ecological degradation. The vision plan ran from Spring 2018 to Summer 2019. Over this period, over 13,000 people engaged in the planning process at local events, special meetings, and online.
The result? A vision that the White River is Central Indiana's next frontier—unifying and diverse, productive and protected, timeless and contemporary. The River sets us apart as communities that can work together to realize big dreams. Its healing power guides us toward a resilient future, supports healthy neighborhoods and economies, honors the past, and improves the lives of Hoosiers for generations to come.
The plan is a framework, not a detailed project or master plan. It focuses on a system of community-derived guiding principles, each with a range of policy recommendations. To illustrate how these principles and recommendations could be applied to a specific site, it applies them to seven case study locations that illustrate the range of types of places along the river. In this way the combination of principle recommendations and illustrative case study site recommendations seeks to inspire, rather than prescribe, possibilities for hundreds of potential opportunities along the river.
Guiding Principles
Restore and Adapt
Restore the river's environment and ecology to enhance its natural function, steward its diverse community of life, and adapt to a climate resilient future. Restore and Adapt means that this stretch of the White River:
Protects and restores the river's floodplain and builds resilience to changing climate conditions.
Strengthens river infrastructure to protect communities from flooding, encourages safe recreation, and restores native plant, fish, and wildlife populations.
Recapture large economically-productive landscapes (such as quarries and landfills) for ecologically-productive uses like stormwater and flood capture.
Steward River Health
Enhance community stewardship of the river's health by increasing opportunities for meaningful, lasting connections and experiences that add value to the quality of life of residents. Steward River Health means that this stretch of the White River:
Improves water quality and reduces stormwater runoff volume.
Manages urban and natural ecosystems in a coordinated manner.
Increase Year-Round Activities
Increase year-round activities that attract people to the river for arts and entertainment, recreation, community gathering, and learning. Increase Year-round Activities means that this stretch of the White River:
Fosters accessible connections to cultural and recreational programs and places.
Activates the river year-round with local programming.
Recaptures large economically-productive landscapes for recreation.
Increase river views and access through new overlooks and ongoing maintenance of riparian vegetation.
Connects retail destinations and diverse neighborhoods to recreation and river amenities.
Ensures the river, public spaces along it, and connections to it are safe and welcoming for everyone.
Draw people to, along, into, and across the White River
Draw people to, along, into, and across the White River's publicly-accessible spaces to create vibrant experiences that bring people together. Draw People to the River means that this stretch of the White River:
Maximizes multimodal connections, on the river and along streets, trails, and greenways – both locally and regionally.
Increases and ensures that all residents have the means to access the river and its destinations.
Reinforces past transportation and connectivity plans and further their implementation and synergy with other projects.
Fosters a cadence of amenities and consistent brand.
Build on the River's Stories
Respect the river's unique historic identity to invite people in and enable them to understand and appreciate the river's stories. Build on the River's Stories means that this stretch of the White River:
Communicates history through multiple means of interpretation, including educational programming and arts installations.
Creates a unified identity for the White River.
Fosters the formal and informal pursuit of learning and skill-building.
Build Economic Strength and Identity
Expand the river's role in our everyday lives to build regional economic strength and community identity. Build Economic Strength and Identity means that this stretch of the White River:
Supports opportunities for local businesses and business attraction.
Supports a sense of pride in the river.
Creates gathering places that attract diverse visitors and grows the regional and national tourism draw.
Promotes inclusive development that supports the local economy and improves the quality of life for all residents.
Preserve Places for Everyone
Celebrate the diversity of the region's communities on the river to preserve places for everyone for generations to come. Preserve Places for Everyone means that this stretch of the White River:
Preserves access to affordable, safe, and diverse neighborhoods.
Enhances and protects the character of existing neighborhoods.
Stabilizes local businesses and expands opportunities for commercial districts
Honor Ownership and Land-Use Patterns
Balance community sentiments with long-term aspirations that honor ownership and use patterns along the river. Honor Ownership and Use Patterns means that this stretch of the White River:
Strengthens the role of existing land owners, residents, organizations, and businesses along the river in decision-making.
Ensures everyone shares in the costs and benefits of change along the river.
Facilitates continued community outreach and engagement as the plan is implemented.
Respects private land rights and makes public investments only on publicly accessible land.
Partner Across Boundaries
Partner across boundaries to collaboratively manage the White River system and create efficient operations and sustainable governance. Partner Across Boundaries means that this stretch of the White River:
Facilitates strong connections between a variety of people and places.
Fosters the hard work and dedication of the many organizations that were actively bettering the White River before this plan.
Works at all levels of government to ensure the river is sustainably governed.
Empowers local governments to steward investments in and along the river.
What's the Timeline?
For decades, environmental and recreation-focused organizations have worked to strengthen community appreciation for the White River and improve its ecological health. Their work received a big boost in 2010 when the CEO's for Cities Livability Challenge, held in downtown Indianapolis, identified reconnecting communities to waterways as one of ten recommendations for improving the livability of American cities. Soon thereafter the long-awaited Dig Indy tunnel system broke ground, promising to dramatically reduce sewer pollution in the White River and its tributaries. For the first time in generations, Indy and its neighboring communities could reimagine the White River as something that contributed to, if not defined, the future of central Indiana. More and more people, interests, and organizations began to see the value of a healthy and active river and their work increasingly embraced touchpoints with it. This culminated in 2020 with the release of the White River Vision Plan for Hamilton County and Indianapolis.
Since its release and continuing to this day, partners across the region are making important progress. From investment in parks and trails to new development in riverfront villages and efforts to improve river health, the vision contained within the plan is helping to inspire implementation.
So what's next? Lots of hard work. Full implementation of the ideas contained within the White River Vision Plan is a generational endeavor. Because the plan is not a detailed master plan with a finite number of identified projects, there is no checklist to start or finish. Instead, progress is measured incrementally with every park or trail or economic development investment, every improvement in water quality metrics, each new resident who chooses to build their career and family in central Indiana because of a nationally-competitive quality of life and place, and each time progress is made in achieving the guiding principles.
Key Related Plans & Initiatives
With so much happening on the White River it can be hard to keep up. We're keeping track of the plans and initiatives most directly connected to the Vision Plan.