The White River Report Card Launch and Canoe Race is a celebration of the completion of the White River Report Card: an assessment and communication tool created to measure community progress, align partners and activities, and inspire change that improves our river and its watershed and protects our economy and way of life.
Report cards are assessment and communication products that compare ecological, social, and economic information against predefined objectives. Similar to school report cards, river basin report cards provide performance-driven grades that reflect the status of a river basin on a regular basis. They effectively integrate and synthesize large, and often complex, information into simple scores. These scores can be communicated to decision makers and the general public and provide to help us make good decisions.

In the image below, you will see the indicators of the three categories: land, water, and community. These indicators are used to assess each region to produce a score.
The White River Watershed encompasses a large and diverse area. To accurately evaluate and communicate the conditions throughout the watershed, the Report Card has developed nine sub-regions. Each will be separately assessed and scored for each indicator. Actions and solutions are being developed for each specific indicator to direct resources and improve future grades.
Muncie – Headwaters
Anderson – Killbuck, Pipe, & Duck Creek
Pendleton – Upper Fall Creek & Geist Reservoir
Carmel/Fisher/ Noblesville – Stoney, Crooked, & Mud Creek
Cicero – Cicero Creek & Morse Reservoir
Indy Downtown/ East – (Lower) Fall Creek, Pleasant Run
Indy NW/ Zionsville – Eagle Creek
Avon/ Plainfield/ Indy West – White Lick Creek
Martinsville – Clear, Lambs, Indian, & Butler Creek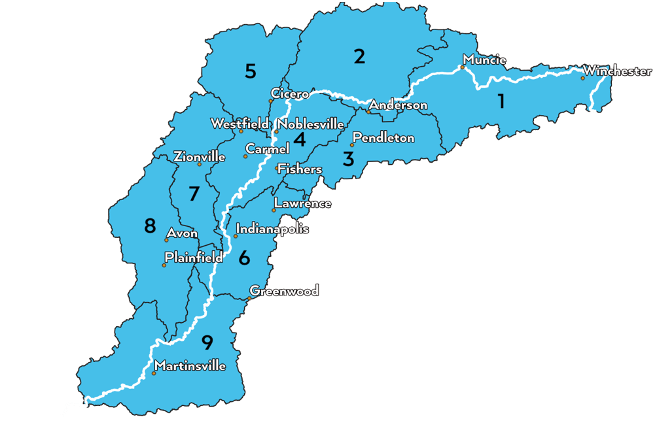 To celebrate this tremendous accomplishment, the Report Card partners will hosting two events to share the findings of the Report Card. There will be a presentation that explains the overall process for developing the Report Card, recognizes the many stakeholders engaged in its development, and shares the results/ grades for the White River Watershed and the 9 sub-regions. For some sub-regions, the Report Card team will dive into specific indicators to explain the grade and provide some actions/ solutions for how to improve the grade in the future. Following the presentations will be a celebratory canoe race!
These events will take place at two locations on the river: White River Canoe Company/Noblesville (Friday, June 23rd) and Canoe Country/Daleville (Friday, June 30th). The registration fee is $80 per team (two-person teams) and it will cover canoe rental, food and refreshments, entertainment, and will also support the efforts of the White River Alliance.

No need to bring your own canoe. All participants will be required to use canoes provided by White River Canoe Company and Canoe Country. Awards will be given out to the top 3 finishers of the male teams, female teams, and co-ed teams. Race in a themed outfit or costume with your canoe partner and you may be the winner of the team spirit award! Race registration closes on June 16th or once all boats are filled. Spots will fill up quickly, register today!

If you're interested in the Report Card Launch and findings presentation but not the canoe race, you can attend the event for free and do not need to register. Please visit our event page as your arrival details will differ from the racers'.
If you have any questions about the Report Card or the canoe race, email Haley Cowart at [email protected].